Virtue in others:
"Any quality that helps others feel good about themselves! I guess I value the generosity involved with helping and supporting others."
My favorite quality in a student:
"Well, there are many things I appreciate in my students, such as autonomy, seriousness, curiosity, and creativeness. I love autonomous students who can manage their own affairs. Yet, curiosity, seriousness and creativeness are also key factors that usually come together to challenge an issue and find solutions."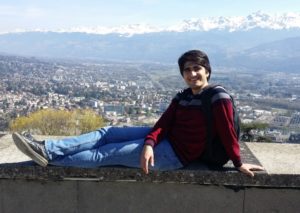 Lunch tomorrow with famous person:
"Hmm… It would have been easier if I had been asked "what are you having for lunch?" Anyway, I'd definitely take this fantastic opportunity to have lunch with the Brazilian legend 'Ronaldo Luís Nazario de Lima'."
Most inspiring environment:
"Any environment full of positive vibes! It could be a classroom full of avid students, in the heart of nature, or a historical place."
If I were an "application", I would be…
"Perhaps a Banking application.  I provide access to a valuable thing, and users know it!  I make people's lives easier, and people treat me well with their frequent visits, updates… and sometimes they even feel worried about me. There's nothing better than mutual collaboration."
Appreciated most in academic colleagues:
 "Their commitment, endless efforts, positive attitude, humility, attentiveness, collaboration, and willingness to help and support."
Professional question trying hardest to answer:
"How to achieve a middle ground for sustainability and profitability in today's business environment."
Professional "Mount Everest":
"Launching a start-up and business with RSB alumni which plays a small part in making the world a better place to live for everybody."
5 Key programme characteristics:
"1.) COMPREHENSIVE: as it covers all aspects of logistics & Supply Chain Management 2.) UP-TO-DATE: as it covers trendy, advanced and hot topics in logistics & SCM 3.) FULLY COMPATIBLE with today's and future market needs 4.) FOCUSED ON both theory and practice 5.) Both SPECIALIZED and TRANSVERSAL SKILLS.
Most critical issue in Supply Chain today:
"Forecasting customer requirements and market trends"
Advice for those seeking to grow professionally:
"Invest in yourself. Focus on both specialized and transversal skills. Expand your professional network. Keep your knowledge fresh and up-to-date, and never stop learning. Get out of your comfort zone once in a while. Be hopeful… hope is the key to success."
What I most want for my students:
"Before all else… peace in life!   At another level, I want them to understand the value of each second in life and to make the most of it."
Innovate much?
"Everyone has something (special knowledge, skill, experience, behaviour, etc.) that we can learn from, if we just look closely and carefully.  To innovate, we need to observe the world through the glasses of curiosity, attentiveness and seriousness."
Greatest business school hopes:
"Non-stop growth to see our school in the place where it truly belongs – among top-ranked international business schools worldwide."
Present state of mind:
 "Actions speak louder than words."
Written on my tombstone:
"It was really worth it!"
Thank you so much for your time, Sohrab.  Very insightful interview!
◊     ◊     ◊
More here about the Executive MSc in Supply Chain Management Programme.